I entered some blocks in the Quiltstory Block Party.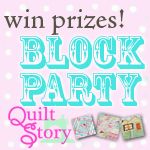 There are some great prizes and some great competition. There are three categories (traditional, modern & creative) and you can enter one block in each category. I thought I'd give it a shot here are my entries:
Traditional
I made this block for Elizabeth in the Quilting Journey Bee.
Modern
This block was made for Amy in Sew 2 Speak.
Creative
This is a block I made for Jennifer in The Stitchin' Bee.
Luckily one of the rules was "ironing optional". I really do iron everything I own obsessively so I'm not quite sure why so many of my blocks get photographed not ironed. Maybe I'm too excited to share.